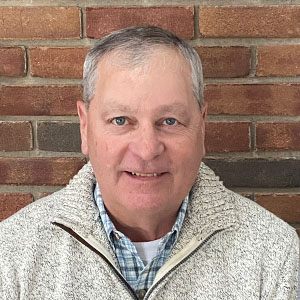 Meet Henry Biggert, Former Superintendent, Carroll Water & Sewer District
Henry Biggert retired in 2021 after 26 years as the Superintendent of the Carroll Water & Sewer District. He continues to serve other Districts as a member of the CORD Board and was an original Board member after CORD was established in 2005. Henry is a lifetime resident of Carroll Township in Ottawa County and was one of the original members of the Board of the Carroll Water & Sewer District when it was formed in 1991.
Henry is a 1978 graduate of Oak Harbor High School in the Benton, Carroll, Salem Local School District. Oak Harbor located approximately 25 miles east of Toledo and 10 miles west of Port Clinton, the county seat. Henry is married to Jodi, a Registered Nurse with ProMedica in Toledo working in Home Health and Hospice care. They have three children. Kylie (Trent) Nissen has followed in her dad's footsteps in the environmental management. She graduated from The Ohio State University and then completed a master's degree in Environmental Science from the University of Maryland. She now works for the Ottawa County Soil and Water Conservation District. They recently welcomed their first son Charlie in January. Another Daughter, Taylor (Tom) Siloy, a graduate of the University of Toledo, has a degree in Early Childhood Education as well as a Masters in Educational Technology and is back home teaching in the Benton-Carroll-Salem Local School District located in Oak Harbor. Son Clifford, named after his grandfather, has a degree in Marketing and Sales from the University of Toledo and is employed by Plaskolite, as an Account Manager, in Columbus.
After high school Henry completed a four-year stint with Brush Wellman, an early pioneer in beryllium production in Elmore, a village in western Ottawa and northern Sandusky County. While working at "Brush" Henry completed the U. S. Air Force Environmental Specialist Course, graduating with honors in 1981. With this course under his belt, in 1982, Henry landed his first environmental job with the city of Bowling Green in its water pollution control department where he collected samples and performed water quality analyses. In 1983, Henry graduated from the University of Toledo Community and Technical College's Environmental Technology Water Quality Control Program. He was on the Dean's list twice and on the National Dean's list the year he graduated. Prior to coming to the Carroll District Henry was a Master Chemistry Technician at the Davis-Besse Nuclear Power Station, also located in Carroll Township, from 1983 until 1995 when he took over the reins at the Carroll Water & Sewer District. While at Davis-Besse he was a union steward for Local 245 of the Electrical Workers.
The Carroll District is unique for a couple of reasons. The Carroll District is one of the few to pass a voter approved bond issue. The voters approved the $14 million issue along with a $3.2 million property tax levy to fund the system. Few districts have used this authority, and some may not know that the authority exists for Regional Water and Sewer Districts. The Carroll District is also known as probably the first system that was forced to close for a brief period because of problems from a harmful algal bloom in the fall of 2013, even though the closure in Toledo is more well known.
Carroll Township is also home of the Ohio Department of Natural Resource's 2,200-acre Magee Marsh Wildlife Area which has historically been inhabited by large numbers of waterfowl, waterbirds, shorebirds, and songbirds. Just up the road in Benton Township is the 6,500-acre Ottawa National Wildlife Refuge operated by the U. S. Fish and Wildlife Service. A haven for birdwatchers, especially in the spring, up to 38 species of warblers have been sighted in the area. Visitors often marvel at the growing population of bald eagles, and the Refuge protects habitats for other migratory waterfowl and songbirds such as the dunlin.