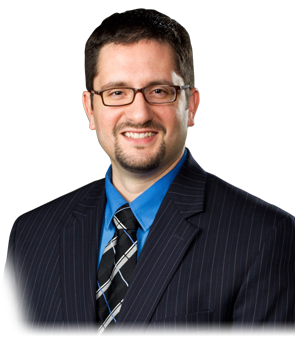 Meet Jason Loree, ABC Water and Stormwater District Board Member & Boardman Township Administrator
Jason Loree has been a member of the CORD Board for 10 years. He was a driving force behind the establishment of the ABC Water and Stormwater District in Mahoning County. The ABC District is a strategic watershed partnership between Austintown, Boardman, and Canfield Townships. Jason serves as Boardman Township's representative on the ABC Water and Stormwater District wherein Trustees of each Township appoint one representative to the Board.
The ABC Water and Stormwater District was formed in 2009 in recognition that there was no funding mechanism allowing townships to effectively manage stormwater. The District uses a stormwater utility to fund projects. The fee is based on non-pervious surfaces, applies to all classifications of land use, and fees derived from any Township, in most cases, stays in the Township.
Jason is a lifelong resident of Boardman Township. He graduated from Boardman High School in 2000 and received a bachelor's degree in Political Science and a Minor in Pre-Law from Kent State University in 2004. He then completed a Master's in Public Administration from Kent State University in 2007.
While at Kent State he served as an Undergraduate Student Trustee, representing over 30,000 undergraduate students at Kent State's Main Campus for a 2-year term. Jason has also been selected to take part in Kent State University's Columbus Program for Intergovernmental Issues and had the opportunity to live and work in Ohio's state capital for a semester. While in Columbus, he worked for the Office of Budget and Management assisting budget analysts for the state.
Other than serving as a District and CORD Board member Jason's "day job" is the Township Administrator for Boardman Township. Jason began as an Intern in 2004, an Administrative Assistant in 2006, and he became the Township's fourth Township Administrator later that year. He also has been appointed to the Emergency Services Internet Protocol Network Steering Committee (ESINet) as the Ohio Township's Association Representative, which is tasked with setting up the next generation of 911 service all Ohioans.
Civically, Jason has helped create Marge Hartman's Dog Park, a 3.25 acre enclosed off-leash dog park in Boardman Township's Park. He also is a member of the local Lion's Club which helps to run a middle school food pantry, provides school scholarships for high school seniors, a "coats for kids" program, and free eye screening for children in the local community.
As Jason says: "It is my pleasure to serve as Boardman Township's Administrator in my hometown. I will do my absolute best in assuring that the Township runs both effectively and efficiently in the day-to-day operations. On a personal note, I believe Boardman Township is indeed a "Nice Place to Call Home."