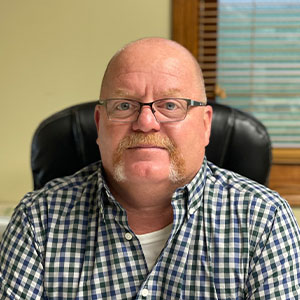 Meet John Simpson, General Manager, Le-Ax Regional Water District
John Simpson has been the General Manager of the Le-Ax Regional Water District for 14 years. The District derives its name from Lee and Alexander Townships in western Athens County. Le-Ax was formed in 1968 to supply safe drinking water to the Village of Albany and 250 families in the surrounding area. Following steady growth during its first three decades a new water treatment facility was opened in 1997.
Today Le-Ax serves the Village of Albany and nearly 7,000 customers (20,000 residents) in 17 townships in Athens, Hocking, Meigs, and Vinton counties. Le-Ax's two collector wells pull water from the Hocking River Aquifer and can produce up to 8.5 mg/d. Treatment of raw water includes iron and manganese removal, filtration, softening, fluoride enhancement and chlorine disinfection and can treat 2.8 mg/d. The system includes 750 miles of water line, seven pumping stations, and 12 tank sites. The District budgets approximately $3.7 Million annually and John manages a staff of 16 employees.
John grew up in Stewart, an unincorporated area in Athens County, and went to Federal Hocking High School. He and his high school sweetheart, Carol, have been married for 40 years and are the proud parents of two married sons. They have a beautiful red headed little granddaughter, Gwendolyn Kay, who has stolen John and Carol's hearts. They anxiously await their second grandchild in the spring of 2022.
Prior to joining Le-Ax John had already completed another career and brought his management and supervisory skills with him. For 27 years, John worked for McBee Systems in Athens where he worked himself up from a worker on the production floor to the Director of Operations, overseeing production in Ohio, Virginia, Utah, and Georgia. McBee was a printing company (originally McBee Binder Co, formed in 1906 and later acquired by Deluxe Corporation) specializing in business checks, forms, labels, receipt books and similar products. John had a short stint as Plant Manager at the Damascus, Virginia plant, otherwise he has called Athens County his home. McBee closed operations in Athens in 2006 where over 350 jobs were lost. John joined Le-Ax part-time in 2005 as Assistant General Manager transitioning to full-time in 2006 and became General Manager in 2007.
John has been on the CORD Board for six years. He has also been active in the Ohio Rural Water Association (ORWA), where he now serves as Vice President and Chair of the Legislative Committee. John received Ohio Rural Water Manger of the Year Award in 2012 from ORWA and is the 2017 recipient of the John Wolfe Award, the organization's most coveted award. In 2014 Le-Ax received first place as the "Best Tasting Rural Water in Ohio".
John is the recipient of a Business Management Certificate from Tulane University; a Utility Management Certification from the National Rural Water Association; and has completed various leadership development and management programs from the American Management Institute. He holds an Ohio EPA Class II Water Distribution License and is a member of the Athens County Local Emergency Planning Committee (LEPC) and The Buckeye Hills Regional Council of Governments.