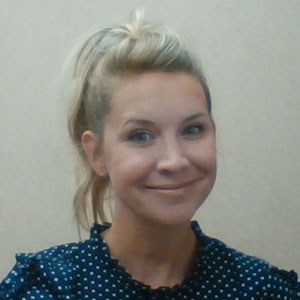 Meet Kim Stiles, District Manager Allen Water District
Allen Water District Manager Kim Stiles has been serving the residents of Allen County since 2006 in one capacity or another. In 2006, while still working to complete her BS degree in Business Administration from the Ohio State University, Kim worked at the Allen County Department of Job and Family Services. Working her way up from administrative support for the Investigations Unit, Kim then became an Income Maintenance Caseworker, administering Medicaid and food/cash assistance. Later transitioning to a Quality Control Reviewer, she decided to look for a new challenge. She found that challenge as Clerk to the Allen Water District Board in May of 2017 and became District Manager in 2019.
The Allen Water District's Board is composed of 9 members. The Board consists of four members appointed by each township: American, Bath, Perry, and Shawnee, four members appointed by the Allen County Commissioners and one Member-at-Large appointed by the Board itself.
The district was originally formed in 1989 with the purpose of bringing quality water to the residents and businesses in American, Bath, Perry, and Shawnee Townships. The district, however, now represents unincorporated areas in all 12 townships in Allen County and has recently executed a contract with the Allen County Commissioners to assume responsibility for Allen County's water lines, initially for a five-year trial period.
The Allen Water District has a contract with the City of Lima for water supply and does not provide sewerage services as this is provided by the Allen County Sanitary Engineer. The district is an excellent example of the regional cooperation. In addition to collaboration with the City of Lima and Allen County, the district is currently working on water line projects for the Villages of Harrod and Lafayette, both with populations of under 1000, and is helping the Allen East Local School District respond to an Ohio EPA issue. Through these projects Kim is learning firsthand the opportunities and challenges of making projects a reality with funding sources including USDA, CDBG, OPWC, and local government contributions.
Kim's spare time is largely spent on family activities. Her three kids, ages, 8, 11 and 14 keep her busy as they are active in sports, dance, and church activities. Vacations are important activities with family and friends, and Kim was recently able to visit Saint John in the U.S. Virgin Islands.