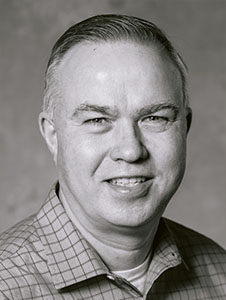 Meet Scott Sands, P.E., Principal, Sands Decker Engineers and Surveyors
Principal and Professional Engineer at Sands Decker, with its main office in Upper Arlington, and two additional offices located in Logan and Zanesville, Mr. Sands has over 35 years' experience in the consulting engineering field. Early in his career, Scott gained valuable on-site experience by serving in the capacity of Field Technician and Survey Crew member. From there, he transitioned to Draftsman and Design Technician, then to Project Engineer and Production Manager. Following that, he held the positions of Project Manager, Client Representative, and Chief Engineer. Scott has professional affiliations with Ohio Society of Professional Engineers (OSPE) where he was past chapter president and past state president, as well as the Engineer's Foundation of Ohio where he was past president, secretary, and treasurer. Scott has served on the CORD Board since 2010.
Scott formed Sands Decker Ltd. with partner Glenn E. Decker, P.E. in 1998. In 2007, in order to provide a greater resource to clients, Mark Cameron merged his firm (CPS Consulting Group, LLC) with Sands Decker Ltd., which became Sands Decker CPS, LLC. Today, the firm is known as Sands Decker and still maintains a small firm hands-on approach.
Sands Decker provides a broad array of services for projects involving water treatment, storage and distribution; wastewater collection and treatment; stormwater management; land development; air quality permitting, commercial and industrial site development; single-family and muti-family residential development; primary and secondary school sites; road design and reconstruction; contract administration; and traffic engineering. The firm also provides boundary, topographic, utility, and construction surveying services.
Scott likes to build things…beginning with the initial idea, to the conceptual stage, then to a fully thought-out plan, and finally through construction to a finished project. This explains why he excels at his job as a professional engineer. It's also worth mentioning that Scott has restored two old tractors: a 1943 Farmall H tractor that his grandfather bought brand new in Newark and a 1952 Ford 8N that was his father's.
Scott hails from a family of six kids raised on a 300-acre beef cattle farm in northeast Licking County, Ohio. He graduated from River View High School in Coshocton County and is a college graduate from The Ohio State University, BS Engineering, in 1986. The farm was purchased by his grandfather in 1906 and Scott still actively farms it with his brother Jim who acts as the farm manager.
Scott has been married to Miranda for over 22 years and has lived in Hilliard since 1992. He and Miranda have two sons Jake and Nick, who attended Hilliard Davidson High School. Jake has a degree in construction management from Bowling Green State University and Nick is enrolled at the University of Cincinnati for electrical engineering. The "real" children are the family's two dogs Jedd and Ella (a Pit-Lab mix and Chihuahua/Dachshund mix).
In his free time, Scott hones his skills at sporting clay shooting and golf. He enjoys both activities and says his sporting clay shooting skills are mediocre but improving!